Hot Cars Campaign
Every year approximately 5,000 Australian children are rescued from cars. Three-quarters of those children are under four years old. Even on a cool day the temperature in a parked car can be over 30 degrees hotter than outside. In fact, 75% of the total temperature rise can occur within the first five minutes of parking a car.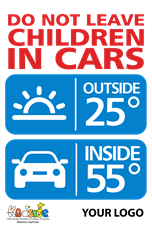 Kidsafe WA's 'Do Not Leave Children in Cars' campaign aims to raise community awareness and reduce the number of children left unattended in parked cars in Western Australia.
Kidsafe WA has designed car park signs that can be purchased by organisations. These are ideally suited for car parks at parks, recreation centres, community centres, libraries, beaches, swimming pools, entertainment venues, shopping complexes and schools. The signs can be installed to remind community members to take their children with them. The signs last for approximately 10 years, equating to a cost of $6-7 per sign per year.
Purchasing car park signs:
Car park signs can be ordered through this order form and will take approximately 2 – 3 weeks to manufacture once payment has been made.
Your organisation must provide a high resolution pdf of your logo for inclusion on the signage, as they will be co-branded with Kidsafe WA and your logo. Your organisation is responsible for choosing the location for the signs and installing them. The signs can be affixed directly to gates and walls or mounted on a sign pole.
Kidsafe WA will also provide social media content, a newsletter article, website content and a media release template to assist your organisation in promoting the signs. We will also provide regular updates including statistics, resources and information which can be utilised by your organisation.
Prices of car park signs:
1 sign ($95.00)
Please contact us for a quote for multiple signs
*Please note postage charges will apply for the delivery of signs, with signs taking approximately 2-3 weeks to manufacture once payment has been made.
Car park signs are 45cm long, 30cm wide.
Funds generated from the sale of the car park signs will assist Kidsafe WA to further develop the 'Do Not Leave Children in Cars' campaign.
Help us share the message 'Do Not Leave Children in Cars'.
Other useful links:
'Unconventional Oven' project: Click here